Employee Benefits: actively supporting your life, health and career ambitions.
From free yoga classes and our Healthy Lifestyle program to 401(k) and tuition and student loan reimbursement programs, we provide the benefits you need to keep going, growing and advancing in your life and career.
Insider perspectives on working with us
Brian G., sales support manager
Work Location: Woodland Hills, CA
Years at Aetna: 11
Total work experience: 11
Hobbies: Surfing, snowboarding and running. Serving as member of a mountain rescue team.
Enjoys working at Aetna because: Our people are the best. If you don't have a good work environment, you're not going to enjoy it – and you're not going to do as well as you can.
At Aetna, we're fortunate to have many opportunities to advance our careers and better our skills. For me, and for Aetna, the customer is at the center of everything we do. But the customer is always changing – and we have to change, too.
Explore Employee Profiles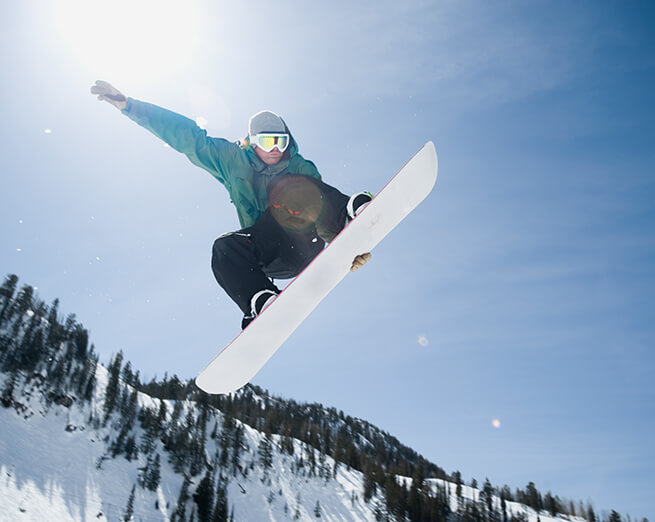 Explore what we have to offer
Medical
You can choose from three types of medical plans: a health savings account, a health reimbursement arrangement or a hybrid health plan. Certain preventive care services are covered at 100 percent when you go to in-network professionals.
And you never need to get a referral for specialist care or select a primary care doctor. You also have access to information and tools that can help you find ways to save on expenses.
Dental
Choose between a dental maintenance organization plan and preferred provider organization plan. Both cover certain preventive care services at 100%. They also offer coverage for basic services.
Vision
You can enroll in a separate vision plan. It covers eyeglasses and contact lenses. Preventive vision exams are covered through the Aetna medical plan.
Flexible Spending Accounts
A flexible spending account lets you set aside pretax dollars to help pay for certain types of health care and/or dependent care expenses.
Enhanced Benefit Program
A program designed to lower out-of-pocket medical costs and tuition for employees who qualify, based on their total household income and other criteria. Employees need to apply, meet program criteria, and get approval to enroll.
All employees get term life insurance and business travel accident insurance at no added cost.
You have the option to buy:
Supplemental term life insurance
Accidental death and personal loss insurance
We provide a variety of programs for paid time away from work for eligible employees.
Paid time off
During your first 3 years at Aetna, you receive the equivalent of 18 days off per year. The longer you work at Aetna, the more time you accrue per month. Company holidays, jury duty, military leave, bereavement and community service time are in addition to your paid time off.
Short-term disability
Eligible employees who become ill or injured receive a percentage of base pay. You may be eligible to receive these benefits for a period up to 25 weeks for a certified disability after a one week waiting period.
Long-term disability
We provide coverage with a monthly benefit equal to 50 percent of your eligible pay. You may be eligible to receive these benefits after a 26-week period of certified short term disability. You have the option to buy an additional 10 percent of long-term disability.
Achieving your personal financial goals is an important part of your life. To help, we provide financial education benefits, as well as a 401(k) plan to help you save for retirement.
401(k) plan
You can save a percentage of your pay in the 401(k) plan, on a pretax and/or Roth after-tax basis. You may participate in the 401(k) plan immediately following your hire. We match a portion of your contribution. You can invest your contributions among various options offered in the plan.
You may be able to transfer (roll over) funds from another employer's qualified savings or pension plan to the 401(k) plan, even if you no longer contribute to the plan.
Employee stock purchase program
You can purchase Aetna stock at a discount through a payroll deduction. In order to participate, eligible employees must enroll during the enrollment period announced by Aetna.
Employee tuition assistance program
We encourage professional development. That's why we provide financial support for continuing education. This program covers a portion of tuition and registration fees for a college course.
Student Loan Repayment Program
Provides matching student loan repayment assistance to employees who have eligible loans for completed degrees within certain guidelines.
Managing work, family and life in general isn't always easy. That's why we offer resources to help you balance your career and your personal life.
Wellness and fitness programs
Our employee wellness program offers services such as wellness campaigns, weight-management programs and educational seminars.
Financial wellness
We believe becoming "financially fit" is linked to good physical health. We offer free personal consultations with a certified financial planner or retirement education specialist. And small workshops educate employees on financial and benefits-related topics. Also get online tools and videos to help reach your financial goals.
Worksite fitness centers
Employees have access to fitness centers at more than 30 work locations. The centers provide group exercise classes, personal training and weight-management programs.
Healthy lifestyles incentive programs
This incentive program is offered to all eligible employees. You can earn up to $500 for healthy eating, physical activity and other healthy behaviors. Family members can also earn incentives.
Aetna Resources for Living®
This employee work/life assistance service provides you and your family members with information and referrals to behavioral health professionals and counseling.
We offer a wide range of other support services.
Aetna Voluntary Hospital Plan
We believe in offering employees access to broader hospital coverage. The plan provides financial protection from out-of-pocket expenses associated with a medically necessary hospital admission.
Hyatt Legal Plan
You can purchase a wide range of legal advice and fully covered legal services for yourself and your eligible dependents.
Aetna Critical Illness Plan
This plan pays cash benefits when you or a covered family member is diagnosed with a covered serious illness (such as heart attack, stroke or cancer).
Community volunteer support
One of our values is to improve the quality of life in communities through employee volunteerism. And through financial support, such as our Matching Gifts program. Our Aetna Foundation, Inc. Partners in Community Giving® program encourages employees to support nonprofit charitable organizations and to serve as volunteers.
Aetna commuter benefits
You can direct part of your pay, on a pretax basis, toward eligible work-related transportation expenses, such as mass transit and parking.
View Our

View our Employee Benefit Overview (PDF)
Jobs for you
Recently Viewed Jobs
You do not have any recently viewed jobs
Your Saved Jobs
You do not have any saved jobs
Join our Talent Community
At Aetna, we are pioneering a total approach to health and wellness and we need talented candidates like you to join our team. Become a member of our talent community to be the first to know about career initiatives that match your skills and interests as they become available, in addition to details on upcoming events, networking opportunities, and news about Aetna.
Sign Up
Join Our Talent Community
Sign up to receive information about job openings that are tailored to your skills and interests. Plus, get the latest career news from Aetna.
Find out when we'll be in your area for recruiting.
Come visit us and learn about the wide range of career opportunities at Aetna– we are waiting to meet you.
Recruiting Events